If you like the sense of luxury for your home but can afford to support it, we present the way that you can use and make your living room to look like as if it comes from a decorating magazine page.
Put green Place into a corner in your living room interior plants with different colors and types. Different species of plants and in different elegant flower pots that will fit in the area giving an alternative way of luxury.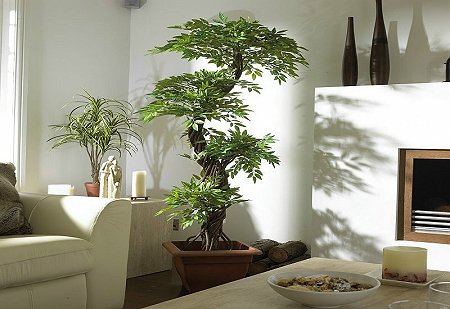 A fake fireplace Most of the times the "look" is more impressive than the "being" especially when we talk about decorating. Do not waste time and create a decorative fireplace in your living room. Clearly the economic part will have no relation to the cost of a normal fireplace, but the result will be almost the same. The luxury in your living room! The fireplace will look particularly true if you invest with marble or tiles in various patterns.
Α mirror in your living room The mirror is a unique object of luxury that we can place in our living room. Prefer to place your mirror near a window so that it still radiates more natural light into the rest room. Remember that the mirror will add several square space and will make your living room look larger. If you choose to mirror lath make sure to be gold in order to even give an elegant touch to the space.
Decorating with black and white There is nothing more stylish than a minimal living room in shades of white and black. The harmonious combination of contrasts secretes a luxurious touch and impress everyone. Choosing such hues, you acn also artfully hide clutter in the space.
Create a point at your space that represents you. Select a corner of your living room and place there objects of your choice that are gifts that you received or you bought from your travels. In this personal corner there are rules you can put whatever you want without restrictions.
Renovate anything is old. If you have old furniture from your grandmother as a dowry and do not know how to use it, it's time! If for example you like one of your dresser you just have to put your corrective touches and place it in your living room. The combination of classic and modern gives a special touch to your living room. To add even more style place over it a mirror or a work of art.
A new piece of furniture. With a single change your room may look different. There is no need to make radical changes to make your space look luxurious. Invest in a piece of furniture and move decoratively based on this. The object may be a floor lamp, a textile armchair and whatever might cause you impression.
Play with colors There is nothing better than the effect that paint can offer . The different, always related, shades can give a luxurious feel to your space. Choose a color, and some shades of paint, for example a shelf or library that is in the living room. The result will be yes definitely unique and will attract the eyes.
Play with lighting Lighting is an item that is usually omitted when we decorate and for many people it may be a secondary element. It has proven to be an important decorative element in a room regardless of the size or the objects that compose it. So choose a fixture that will enhance your space and give the air of luxury that you are looking.
Tags: living room, decoration, luxury, decor, small, house, secret,magazine publishing
---
HOUSE see also….
Old photos, memorabilia and souvenirs boost our confidence according to American explorer, educator and author Dan Buettner….read more
---
Let's renew our house for the Autumn!
It's nice when you come from you holidays to have this mood to refresh your house in order to welcome….read more
---
The 10 items that must remove immediately from your bedroom!
Surely the majority of the bedrooms you have seen are full of color, heavy curtains, stuffed clothes….read more
---
9 ways that your home…will make you happier
We can seriously and scientifically inform you that the place where you live can help you become happier….read more
---
Homes in or around the water, houses salted. A house by the sea is a desire and dream for many people…..read more